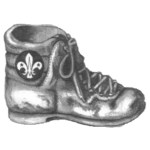 THE 49TH COTSWOLD MARATHON
SATURDAY 12TH FEBRUARY 2022
 The Cotswold Marathon is a winter night hike around Gloucester and over the Cotswold Hills. There are 3 routes:- Bronze 10miles, Silver 20miles and Gold 30miles. There is a maximum time limit of 6, 11 and 16 hours respectively. The Marathon is over varying terrain making it necessary for team members to have a good knowledge of mapping and orienteering. There are checkpoints every few miles around the route where drinks will be provided.
The hike starts at 1700 hours on the Saturday from Murray Hall, Tuffley Lane, Gloucester. Walkers should arrive for kit check at least 45 minutes before the start.
 TRACKING

Tracking link: https://racemap.com/player/cotswold-marathon_2022-01-10
You will need to enter the tracking number your team have been given during registration
 FOOD
a)    During the hike each member is expected to carry their own food in addition to an emergency food pack.            At most checkpoints, there will be squash available and at some checkpoints, hot drinks will also be provided.
b)    Breakfast will be available from 06.00 hours on Sunday.                                                                                  Breakfast must be booked and paid for in advance and will only be served to those who have vouchers. The last breakfast is served at 09:30 hours.
---
PROVISIONAL ROUTE
START-822154 : CP1-840151 : CP2-8634 1485 : CP3-866122 : CP4-895131                                                         CP5-913129 : CP6-928143 (Bronze Finish) CP7-939128 : CP8-956093 : CP9-943063:                                       CP10 906061 (Silver Finish) CP11-878087 : CP12-870117 CP13-857125 : CP14-849139:                                        FINISH-822154. Walkers must pass through all checkpoints. More information can be found here.
---
PRACTICE WALKS
During the event safety cover and supervision is provided, however, on practice walks it is the Leader's responsibility to ensure that adequate supervision is provided. The weather conditions on the route can change very quickly and become very hostile during the winter months. For your own safety, it is important that reflective clothing is worn on practice hikes and the Country and Highway Codes are obeyed.
PHOTOGRAPHS
Photographs will be taken of all teams at the start and may be published on the website and social media sites. Names will not be linked to photographs. Please advise the organisers if you do not wish to have your photograph taken.

---
GENERAL
The organisers and Gloucester District Scout Council accept no responsibility whatsoever for any loss incurred during the weekend of the event. Walkers should make their own arrangements for the insurance of possessions if they feel it necessary. Kit check will open at 3:00 pm on the day. There is no formal presentation and winners will be posted on the website at the end of the event. Completion medals will be presented at the end of each route and Trophy winners will receive a marathon boot by post after the event.